My husband and I have made a few trips "down island" lately, most recently yesterday afternoon. Driving back up island just after sunset, we settled in for a couple hours of extreme vigilance. See, there are a lot of deer on the island, and that early-evening, waning-light time of day seems to draw them to the roadsides, where they graze on the dry grass and leap out at random to cross the highway.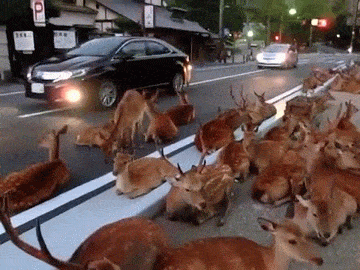 We may not have quite this many... ;)
My hubby hit a deer a couple years ago, on this same drive (the deer lived, but the car had over $2000 damage and was in the shop for a week), and he and I have both had close calls at other times. So, we're cautious, doing whatever we can to prevent an incident that, at best, would result in minor damage to the deer and our car, and at worst, would be…well, much worse. We reduce our speed, avoid that hard-to-see time of day when possible, use the high-beam lights, and constantly scan for deer.
This morning I'm thinking about vigilance—not for dangers of the wildlife-encounter sort, but for dangers that can leap from the shadows along our publishing journeys and completely derail our writing. But what dangers are there, and how can we guard against them?
There are other dangers--distraction, procrastination, being closed to learning, and other things that can derail our writing--but this post is long enough already! I'd love to hear your perspective and any tips you have to share. Tell me, in your experience, what is most likely to derail your writing? What helps you avoid that danger?